Bite Beauty Outburst Longwear Lip Stain is a full-coverage, high definition, long-lasting lip stain that is one of the truest lip stains I have ever tried. What I mean by that is after I remove it, it's still present on my lips for days after that. Now, some people may find this unappealing, but for me, I think of it as waking up beautiful lol. There are three shades in the line so far and I picked up Strawberry Froze, after swatching the other two.
L to R: Strawberry Frozé, Orange Fizz, Sangria Slush
Bite Beauty Outburst Longwear Lip Stain Strawberry Froze
My skin type
My lips are dry on their own. Lip balm isn't needed with these because they are moisturizing. I did test this with lip balm underneath and there was way too much slip so no emollient balm with this one!
What it's supposed to do
From the brand: An intensely bold lip stain that's hydrating, longwearing and lightweight, with easy application and waterproof wear.
How I use it

It's almost impossible to use this as a lightly-there lip stain. These are very bright, although I still detect my lip blemishes underneath. Two coats on each lip is enough for me. I find that reapplying during the day definitely intensifies the stain, and the stain that's left after product is removed. I remove it at night with a cleaning oil, followed by a second cleanser. Again, there is a stain left over. When I really want to get it off, I'll use a lip mask for a period of time and wipe off with a terrycloth hand towel. This gets most of it off.
I don't really recommend wearing this as an after-the-fact stain; what I mean is applying it and then wiping it off so that it looks more like a stain than a lipstick. The reason for that is because when removed, the color is not removed evenly and the result is a bit patchy. In theory, you could reapply and try again, but that's just a waste of product to me. Besides, these are their most beautiful used full-coverage.
What I like about it
I like that it leaves a stain on the lips for a few days after; so yeah, it's waterproof in that sense.
They are moisturizing and no lip balm is necessary or recommended.
The shade Strawberry Froze is beautiful and makes me feel that way.
You can eat and drink with this and only have to do minimal retouching.
What could be better
It's expensive at $24; I know Bite Beauty is good for it, but seems like a lot to me.
Joy Factor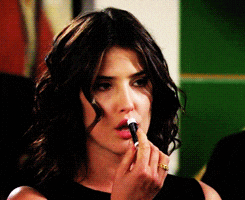 Where to indulge

-XX

If you enjoyed this post, you should add me on Bloglovin so you never miss another.