I finally got my hands on the Fenty Beauty Pro Filter Soft Matte Foundation!
Here are some shots of me with no other makeup besides the Fenty Beauty foundation and seemingly crooked eyebrows! 😅 I think I was just doing The Rock's 'The People's eyebrow'. 😎
With flash
Here are some shots of me all made up using the Fenty Beauty Foundation. For reference, I'm wearing Armani Beauty Eye Tint Senso, Armani Eyes to Kill Proliner, Anastasia Beverly Hills Dip Brow Granite, Hourglass Ambient Lighting Palette, Sephora Collection Winter Flush Blush Palette (numerous shades) and Dior Lip Glow in Matte Raspberry.
With Flash
In the sunlight; probably the best representation of what it looks like on me
My skin type
Oily, dark acne scars on cheeks and chin. Check out this post for what I look like without foundation (eek!)
What it's supposed to do
It's supposed to be a medium coverage foundation, but I'd argue that it's a full-coverage foundation. Those seem kind of hard to come by these days. I would not have guessed my shade was 440; it was the only one left in Sephora and I only swatched it to see how far left or right I would have to go. I was quite surprised when it looked like it was a match, especially since the description of the shade is 'for deep skin with cool red undertones.' You know, because there are so many shades, I would wager that I could get away with other shades in the range as well. I think this shade is great because it'll also keep me covered when summertime comes and I get darker.
From the brand: Born in 40 boundary-breaking shades, Pro Filt'r Soft Matte Longwear Foundation gives skin an instantly smooth, pore-diffused, shine-free finish that easily builds to medium to full coverage. The oil-free formula is made with climate-adaptive technology that's resistant to sweat and humidity, and won't clog pores so that wherever you are, it's going to work on your skin. Best of all, this longwearing, light-as-air texture is undetectable on skin — so you always look like you.
How I use it
My CosmoCube palette was filthy so I squeezed a bit straight from the bottle onto one side of my face. I'd never done that with a foundation before because I cringe when I see that on the Gram, but you know what? It was fine. I didn't waste any product and I survived. The foundation blended into my skin seamlessly. I have used a dense foundation brush with this and a more loose airbrush brush with the foundation.
What I like about it
It does everything the brand claims. I haven't used the foundation with setting powder (except where I use my under-eye concealer) and my skin stayed in that soft-matte finish. I read some people saying this foundation made them look flat matte, but I didn't have that problem! You don't need to pile this stuff on either. I have seen some people cake it on as if they had a few layers on, and maybe it's to cover up some undesirables, but I find that a thin layer of this stuff is sufficient for me and I have scarred skin. If I feel I need more coverage in certain areas, I'll just go back over that tiny little area.
I also love the sleek packaging. I haven't had a problem with breakouts and best of all, I'm not a shiny mess midday. A lovely young lady told me my skin was gorgeous and all I could do was halfway blush, thank her, and then film an Instagram story thanking Fenty!
What could be better
The shade is a great match for me. It doesn't oxidize but it does look different once it has settled on to my skin and becomes matte. Therefore, I find I have to use this foundation all over y face including my forehead in order to get a seamless look. So in short, this isn't a "use it where you need it" foundation for me.
Joy Factor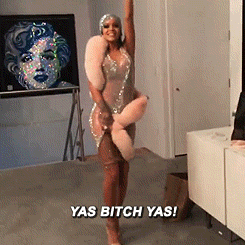 Where to indulge
Sephora | Fenty Beauty | Harvey Nichols
Shop This Post