Does it count as Instagram hype if you see something for the first time and it gives you heart palpitations and then once you get it, it's just as amazing as you imagined? Yes? Well, so be it! Because that's how I feel about the BH Cosmetics x It's My Raye Raye collaboration!
My skin type
While my eyelids are pretty oily, I have used the palette with and without primer with success. By that I mean creasing isn't noticeable for hours upon hours. My skin is also oily, but I rarely use primer these days for that. Regardless, the highlighters and the contour stays put.
What it's supposed to do
The palette is a combination eyeshadow palette and a highlighting and contour palette, a great multitasker. The brushes are super soft and fluffy, and complement the palette nicely. I haven't had any issues with fallout from the neither the palette nor the brush hairs.
How I use it
The palette folds in nicely to something compact enough to throw in your bag, take with you while traveling, or to just use at home whenever. For something that contains so much product, it doesn't take up much space. It has a large-enough mirror to use to do your entire face as well. Have a look at this tutorial!
For the next look, I'm wearing Control Freak, Connie, Midnight, Alison, Chai; and on my cheeks Rayediant. I also filmed this look and am thinking about posting it. If there is overwhelming interest, I'll put some speed behind it. On the lips is Burberry Liquid Lip Velvet Oxblood.
This look is more simple with Spice and Midnight as my primary colors and Fairy tale in the inner corners of my eyes. I'm also wearing Brownie Bite, Rayediant and French Toast on my cheeks.
What I like about it
I love using this palette and I find myself wanting to do my makeup just so I can play with it. There's a great mix of mattes and shimmers in the palette to bring some glam to your eyes. However, it's also versatile and has combinations I can wear for work, going out, whenever. I also love the size of it, and the fact that it almost everything you need to put on a whole face of makeup. There aren't many palettes out there like that that call my name, that are high-quality, and have a sense of luxury about them. BH Cosmetics did a really good job on this one. I love the formula of the shadows as well; it competes with some of my higher end palettes, no question. Which brings me to how affordable this joint is! It was only $22.50! I feel like this palette is worth at least double that, but I certainly appreciate saving my coins!
What could be better
The only thing I can think of is that I kind of wish there was a blush included in the palette! I always wear blush when I wear makeup and could have done with one in here. I would love to see more palettes with combination eyeshadow and contour powders!
Joy Factor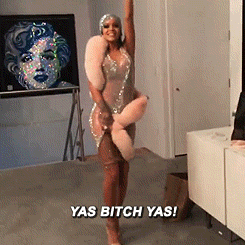 -XX
If you enjoyed this post, you should add me on Follow so you never miss another.