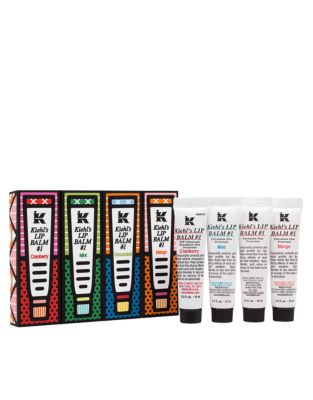 Yes, winter is coming and for many of us, it's already here. What better way to combat the fierce winds and destroy the lip chap demons than by preparing with Kiehl's Lip Balm Giftables ($30)? Perfect for gifting and to keep for yourself.
The Set Contains:
Lip Balm #1- Unscented (0.5oz)
Lip Balm #1- Cranberry
(0.5oz)
Lip Balm #1- Mint (0.5oz)
Lip Balm #1- Mango (0.5oz)
What it does:
Temporarily protects and helps sooth chapped lips, helps shield lips from the drying effects of the wind and cold weather.
How to use it:
Apply generously to lips and allow it to absorb. Apply your favorite lipstick and go!
If you're anything like me, my lips take a beating in the winter. Do yourself a favor and prevent those annoying side lip cracks (hate them).
-XX