It was quite hard for me to get my hands on the ColourPop Yes Please Palette ($16.00). It sold out multiple times before I was able to snag it, and that only made me want it more. Have a look at some photos before I get into the review.
My skin type
My eyelids are oily. I use primer with this palette. The shadows last on me throughout the workday with minimal creasing in my actual crease.
How I use it
I apply the shadows with a traditional eyeshadow brush. Sometimes, I'll use a fluffy eyeshadow brush with the sparkly colors for a more sheer look.
What I like about it
I wanted this palette after a go with a couple of the single ColourPop pressed shadows. This seemed like a really good deal and it screamed end of summer, beginning of fall to me. I love the warm colors in the palette; they complement my skin tone nicely. Chauffeur is absolutely gorgeous and one of my favorite shades in the palette. Also, yellow is my favorite color so I get a lot of use out of that. I also love that this palette can be dressed up and dressed down. I often use French Kiss as my crease shade for many of these colors, or otherwise Note to Self. The lighter shades like Full Zip and Champ don't get much use from me as they are more of eyebrow highlight shades; however, I hardly ever highlight my brow bone anymore, mainly because I stopped waxing my brows (more on that later). I also want to mention that Butter Cake is super intense!
What could be better
While I'm not a fan of the cheap cardboard packaging, I am a fan of my money; this palette was only $16, so I can deal with that packaging.
Joy Factor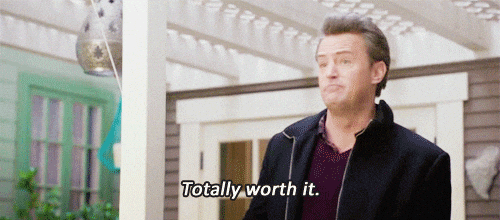 Where to indulge