Why pick one, when you can have them all? The Bad Boy. Mr. Right. Mr. Right NOW. And of course, the Good Catch. Well, now you can with Lipstick Queen's Dating Game Collection. I must say, as a human adult, I have gone through all of these phases of men! 😂  I just love the marketing in this collection. Have a look at some photos.
My skin type
My lips are dry and these days to the point where they are always peeling.
What it's supposed to do
From the brand: Lipstick Queen invites you to take a chance and play the Dating Game. Choose between four medium-coverage, creamy, possible pink suitors all with a rich, silky and polished finish. Featuring a nourishing formula with Shea Butter & Vitamin E, for beautifully conditioned lips, these flirtatious shades are vying to win your heart.
Good Catch
Good Catch, is the most innocent looking on me, and I know how cliché that sounds but that's the whole point! It's a pinky-nude on my skin tone and I reach for it when I want a toned-down, more natural, girl next door look.
Mr. Right
Mr. Right is all kinds of spring! You can dress it up or down but I imagine myself wearing it with a very tropical dress. The point is that it makes me feel happy when I wear it, even in this weird winter we are having. It goes on semi-opaque and is buildable to a full coverage lip. Just make sure your lips are free of flakes.
Mr. Right Now
This is the one I reach for the most. It's the most vibrant on me and the most creamy and fully opaque. It's forgiving to dry, peeling lips and makes me feel really sexy.
Bad Boy
I like Bad Boy because it's easy and sexy. It's not as bright as Mr. Right Now but also has a bit more of an edge to it than Mr. Right. It's semi-opaque and can be full coverage with an extra layer or two without looking caked on. Again, just make sure your lips are free of flakes.
How I use it
If you've got dry, peeling lips like me, you're going to need to exfoliate. For me, this is as simple as taking a wet terrycloth towel and rubbing it across your lips until they are smooth, and then applying a lip balm; I have a preference towards EOS lip balms. These last about six hours on me and will need to be applied after eating.
What I like about it
I love that they all have different personalities! I find myself reaching for Mr. Right and Mr. Right Now most of the time, based purely on the genius of Lipstick Queen marketing. However, I love how dainty and innocent Good Catch is and Bad Boy is pretty and vibrant – I definitely see myself rocking this a lot come spring! These are supposed to have moisturizing properties and I buy that; it has some of the same ingredients as the brand's Frog Prince lipstick and I find that lipstick quite moisturizing. I do use lip balm before using these out of habit and because my lips are super dry, but once on, I don't feel the need to apply lip balm again. Also, how crazy are the super accurate shade descriptions? Generally, depending on the color, I imagine shades looking different on me, usually brighter or more cool because I have pigmented lips. But these shade descriptions are spot on. Lipstick Queen really is a lipstick queen!
What could be better
The castor oil is pretty strong smelling, but does not linger once it's on your lips.
Joy Factor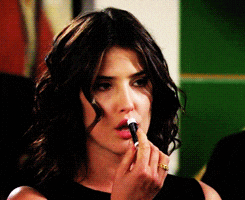 Where to indulge
-XX
If you enjoyed this post, you should add me on Bloglovin so you never miss another.
*The products in the post were provided by the brand. All thoughts and opinions are my own.