I swear 2018 might be the year of glitter. I've never been a huge fan of glitter because of the nature of it getting everywhere, but brands have found a way to make it more sophisticated which in turn made me want to use it more. When the Hourglass Scattered Light Glitter Shadows dropped, I was instantly curious as to if Hourglass could pull this off without coming off as cheap-looking; in my opinion, Hourglass has always been a brand that's been really subtle in the payoff of its products so seeing a glitter release really peaked my interest. I picked up the shade Blaze, a copper shade.
Here's a look at some swatches of the other shades:
My skin type
I have oily eyelids with a lot of natural lines in them. This glitter shadow should be worn with primer if using alone as it creases heavily by mid-afternoon (applying early in the morning).
What it's supposed to do
From the brand: A weightless refined glitter eyeshadow infused with light-reflecting pearls to create high impact, sparkling eyes. The unique hybrid cream formula creates reflective, buildable dimension for everything from a delicate glimmer to an intense, prismatic finish.
How I use it
I've used this with my fingers and with a brush but prefer to use it with a brush. The texture of the shadow is less creamy than I anticipated, but it still spreads and blends easily. I think what I like most about it is its ability to be layered for intensity. The look you see on my lids above is about two layers lightly applied, but as you can also see from the swatches this can be sheered out easily. It reminds me of the Tom Ford Cream Shadow in Sphinx in how you can wear it sheer or opaque.
What I like about it
It's so pretty! I got a complement on the way to work the first day I wore this. I like that this shadow has shown me that glitter doesn't have to be tacky, and I love the sheer-to-opaque feature. I wasn't sure about the shade once I put it on my eyes, but it grew on me. I do think I am going to pick up Foil, the gold shade.
What could be better
It creases pretty badly… if you're not someone that regularly uses primer before eyeshadow, then be prepared for that. I think this could be remedied by applying the glitter shadow over a matte shadow.
Joy Factor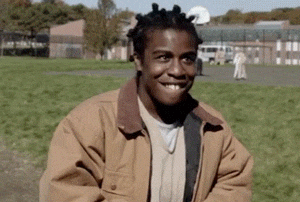 Where to indulge
Sephora | Neiman Marcus | Blue Mercury | Bergdorf Goodman
-XX

If you enjoyed this post, you should add me on Bloglovin so you never miss another.